Browse Categories
Contact Us

Microtec Factory Address: GuoYang Factory, #83 Hengdong Road, Dongkeng Town, Dongguan City, 523448, China Contact Now
Latest News

The 80cm x 100cm APHD-40 model is one of Microtec most popular large format heat presses. Such pneumatically operated machine is mainly developed for professional textile printers of objects with large format. The extra large pressing area of 80 x 100 cm makes it particularly suitable for transfers on large size textile objects such as banners & flags, sheets, curtain or towel, etc.. With a sliding lower plate, it is very easy and efficient to arrange and handle transfer medias with various size. With all the advantage, this pneumatically operated heat transfer machine is ideal for large-scale production environment.

Two working tables designed at one side of the machine when the printing finished the tables rolls out while another one will roll into the machine for printing automatically. Two working stations take turns to do the printing. And this machine has 2 cylinders

DTF printing, DTF printer, Direct to Film printing, Microtec DTF printer, APEX DTF printer, DTF Ink, DTF Powder, DTF Film

This mini heat press is an ideal choice for household use and DIY design. Due to its small size, it is lightweight and easy to carry and operate. It's suitable for pressing small objects like T-shirts, hats, handbags, masks, socks, etc. Especially, the small and compact heat press is perfect for uniquely shaped and extra-small projects with hard-to-reach spaces, such as shoes, and stuffed animals.

Swing Away heat press is an ideal starter heat press for t shirt printing business. MT-201 swing design heat presses combines a heavy-duty solid steel industrial grade framework with easy to use digital controller. This provides the operator with the best possible features and equipment needed for various heat transfer applications.

Digital lanyard heat press machine with dual heat platens. Offered with two strong pressure bars, Microtec lzp-40 lanyard heat press distributes even heat and pressure, to ensure the best transfer result at center and 4 corners. After setting 180C and 60S, this machine will open automatically when time is up.

Do you expect a much more efficient way of working for your heat transfer business? Have you ever intended to transfer texts and beautiful designs onto two mugs, cups, water bottles, and more with only one digital heat press at the same time? With two cup heaters controlled by two controllers, you can do that perfectly with Microtec MPA-200B (new arrival 2 in 1 digital mug heat Press). It is an ideal choice if you prefer high efficiency for your high volume business.

Industrial grade high pressure swing design heat press with pressure adjustable indicator. Durable and safe to use!

Multipurpose swing-away heat press for T-shirts, Mugs, Plates, Caps, which utilizes quick-change attachments to meet your different transfer needs. What's the difference of Microtec's Best selling Combo Heat Press?

Multi-functional digital heat press machine DCH-800. Multipurpose swing-away heat press for T-shirts, Mugs, Plates, Caps, which utilizes quick-change attachments to meet your different transfer needs.

Microtec offers a wide range of heat press machines, different sizes of heat presses from crafting heat press machines to top of industrial large format heat presses. Microtec has been the leading manufacturer for heat press machines for more than 19 years.

Microtec MT-201 is an ideal small format heat press machine for use at home, craft, schools and hobby industries due to its compact frame and 15″x15″ heat platens. This new arrival heat transfer press machine is in luxury design with high-end quality: 25mm thickness heat plate, aluminum limit, stronger arm etc, higher pressure and even heat.

2 in 1 Mug Press with double stations make it possible to press 2 cups at once. Smooth operation is backed by the two individually programmed elements so that you can heat two objects with different settings at the same time.

NA4-0913 is a 9"x13" high-pressure craft heat press machine. Microtec A4 heat press is the perfect, affordable choice for beginners and home users, with heavy-duty structure and portable light-weight design.

FSP Swing Away Heat Press with Pressure Sensor is a new improved swing away high pressure heat press machine with pressure display function.

XSTM series large heat press is fully automatic most versatile heat transfer press for extra large apparels and fabrics. It's ideal heat press machine for transfer printing and sublimation printing. Double tray shuttle system for fast production.

ASTM-24 pneumatic double station heat press machine is featured by its 40x60cm double working tables and air automatic working system. Due to the pneumatic design, this ASTM-24 heat press machine is with high pressure. It is perfect to transfer the material which needs high pressure, such as metal panels, Toner transfer etc.
Follow us
Subscribe

Get email updates on new products
Large format MAG-40 Auto Open machine
Model No.: MAG-40
Machine type: Auto Release, Clamshell
Size of the disc: 39.5 "* 23.6" (100 * 60 cm)
Under plate: removable and interchangeable
Voltage: 220V
Power: 3.6 kW, 1.2 kW / 1.8 kW, 1.2 kW / 1.8 kW
Packing size: 121 * 112 * 97 cm

This
large format heat press
it is ideal for the heat that is applied to sublimable objects, such as shirts, jackets, mouse pads, tiles and more. This
heat press machine
it is particularly popular in European countries. The
sublimation heat press
it is durable and equipped with an automatic digital timer. When the upper plate is lowered by hand, it will trigger a microswitch while it closes, and the time will automatically begin the countdown.
This
Auto Open Heat Press
with sliding pressure bed it is specially designed with thermal plate dimensions 60x100 cm. It is very suitable for large format materials, such as pieces of cloth, metal sheets, etc.
The
MAG-40 heat press
is becoming popular in the sublimation market due to its oversized plateaux and its ability to also generate temperatures and & pressure - which are essential in the application of sublimation transfers. With automatic opening system and opening under the plate, this hot stamping machine is becoming increasingly popular in the field of sublimation.
The MAG-40
sublimation heat press
it is very suitable for large-format materials, such as piece patches, metal sheets, etc.
This sublimation heat press can be used in almost all areas of technology transfer.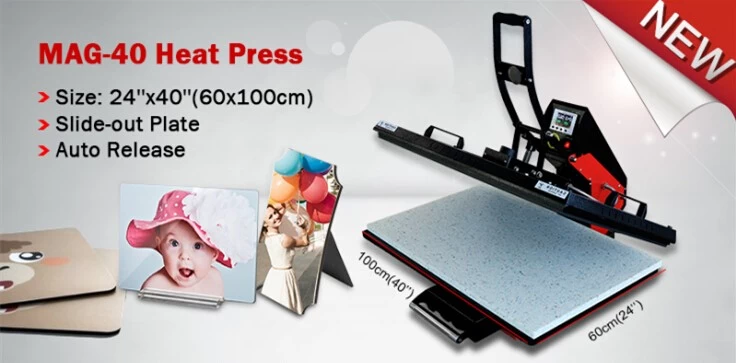 Anti-scald cover:

Metal cover over the heat plate. It can protect the user from burns.              

  

         

                   

        

GY-06 Digital controller:

Simple to use. The user can quickly learn how this controller works.

Emergency stop switch:

In an emergency, the user can press this switch to stop the operation.

Slide under the base:

With a stronger handle, the user can draw the sub-base without any difficulty.
 Model number:

 MAG-40

 Type of machine

 Auto Release, Clamshell

 

Plate size

 39.5 "* 23.6" (100 * 60cm)

 

Under the plate

 Extract & interchangeable

 

ticket inspector

 GY-06 Digital Time & Control Temp

 Printable items

 Thickness up to 30 mm

 

Opening angle

 25 degrees

 

Voltage

 220V

 

Power

 3.6KW; 1.2KW / 1.8kw; 1.2KW / 1.8kw

 

Time lapse

 0-999 sec.

 

Maximum temperature

 225 C

 Temperature accuracy

 ± 0.5%

 

Packing size

 121 * 112 * 97 centimeters

The large format MAG-40 heat press is particularly suitable for heat transfer on clothing, metal panels and similar larger objects.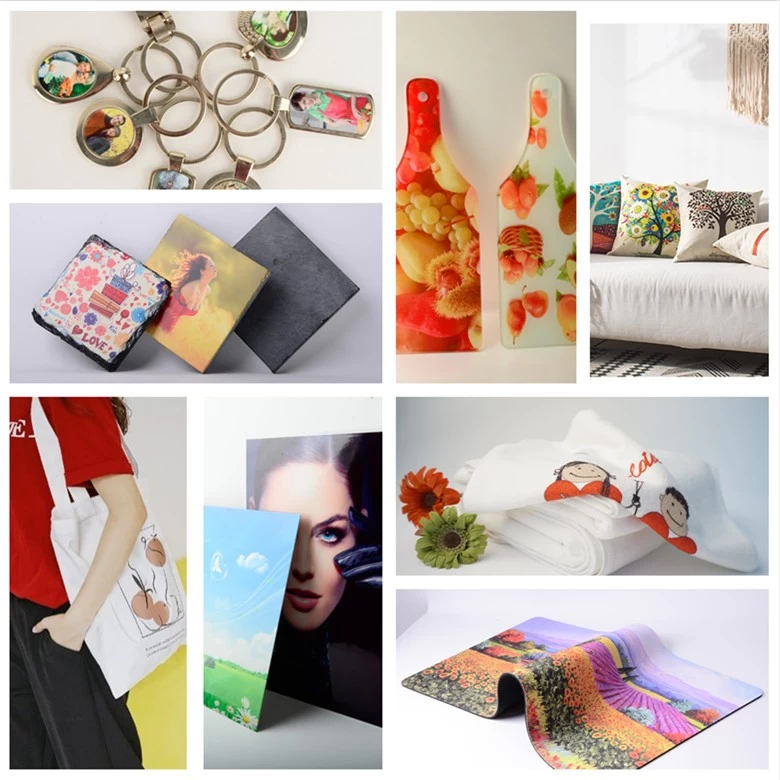 Each individual copper-coated heating rod is tested before being cast in an aluminum alloy or mica sheet. These heating bars are comparable to those of industrial ovens that heat up quickly, function efficiently and last for many years. With our industrial quality heat jets, you can get five years of trouble-free warranty.

All Microtec hot presses are rigorously tested in the following procedures before shipment.
1) Turn on the machine, let it warm up to 200 degrees Celsius.
2) Keep the temperature at 200 degrees Celsius for at least 20 minutes.

All machines are packed in cardboard with fully wrapped polystyrene and manual instructions are available for each set of machines.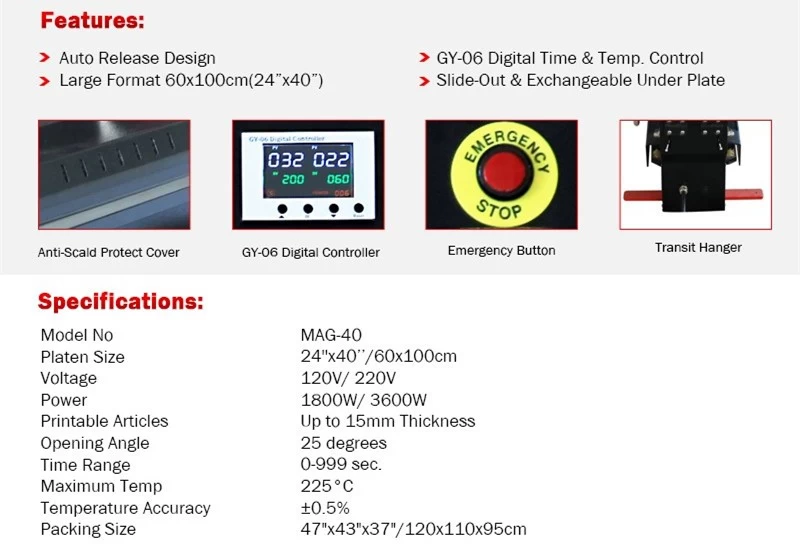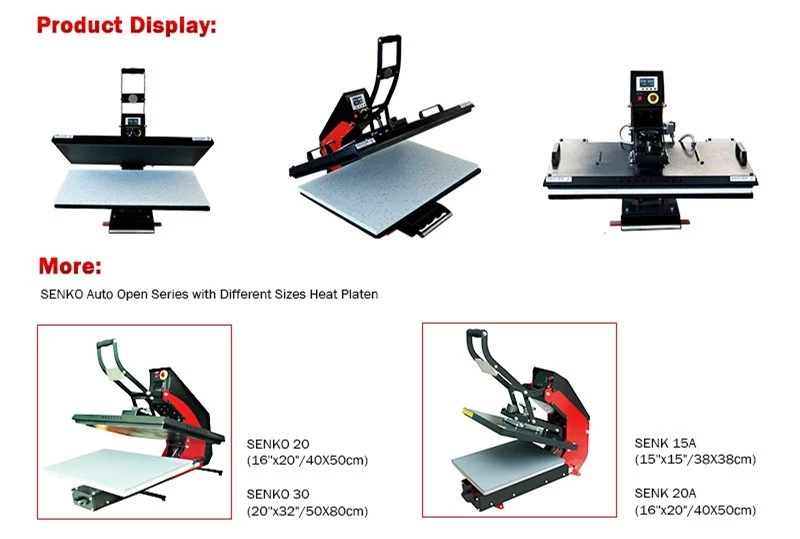 Microtec's main objective is to support all our customers, who can manage their heat transfer activities without interruption. So Microtec offers FREE SPARE PARTS with a quantitative order and the following guarantee:
* Free lifetime technical support on all heat press machines.
* Two-year warranty
* Five-year warranty on fusions and welds.
* Five-year warranty on the heating plate.
* Six monthly warranty on the heaters of cups, plates and caps.
Microtec Technology Co., Ltd.
Tel:+ 86-13924604227
Wechat:+ 86-13924604227
Contact Person:Sophia
PDF Show:PDF
Other Products