What you need to know about Microtec DTF Printers?
Jennifer
Microtec
2023-05-11 11:12:10
Everyone is talking about sublimation and all the things you need for it these days, including the equipment! But just what IS a DTF printer machine and how to choose your favorite machine to help you start your printing business? This article will help you to have a deeper understanding.
DTF refers to direct to film printing. It uses transfer paper with a release type, and uses the characteristics of hot melt adhesive powder to adhere to the ink to automatically position the hot melt adhesive powder to create a free film. The printing method of cutting and picking characters is not required. The graphics on the transfer paper can be transferred to the clothes through the heat transfer machine. Even if it is difficult for DTG to print on dark fabrics, DTF can easily overcome it.
Advantage:
- Printing material:
Such as canvas, denim, sweatshirt, nylon cloth and other materials. Because DTF mainly uses film for transfer printing, it has greater flexibility in the choice of printing materials. To print canvas shoes, hats, clothes, canvas bags and even leather balls, DTF has a very good performance.
- Printing effect:
DTF is a direct transfer of film, like a photo directly pasted on clothes, the image is bright in color and high in fineness.
The products you need to prepare to start your printing industry are:
- Film: Including DTF Film Single Side & DTF Film double Side.
  PET film with semi-transparent features is resistant to high temperatures for transferring on various colors or types of textiles.
- DTF Ink: Color: K C M Y WH FY FM FC SR
  Special formula for exceptional bright and clean colors works with high flexibility and stretchbility for a broad assortment of branded printheads in the market.
- Powder: Types: Coarse Powder/ Fine Powder
  Superior DTF transfer powder can assist in the precision, speed, and stability for your printers in maximum.
- DTF Printer: Direct to Film, Roll to Roll, Digital Printer
- Heat press machine: The high-pressure multi-functional Combo Heat Press can transfer patterns and colors to items well.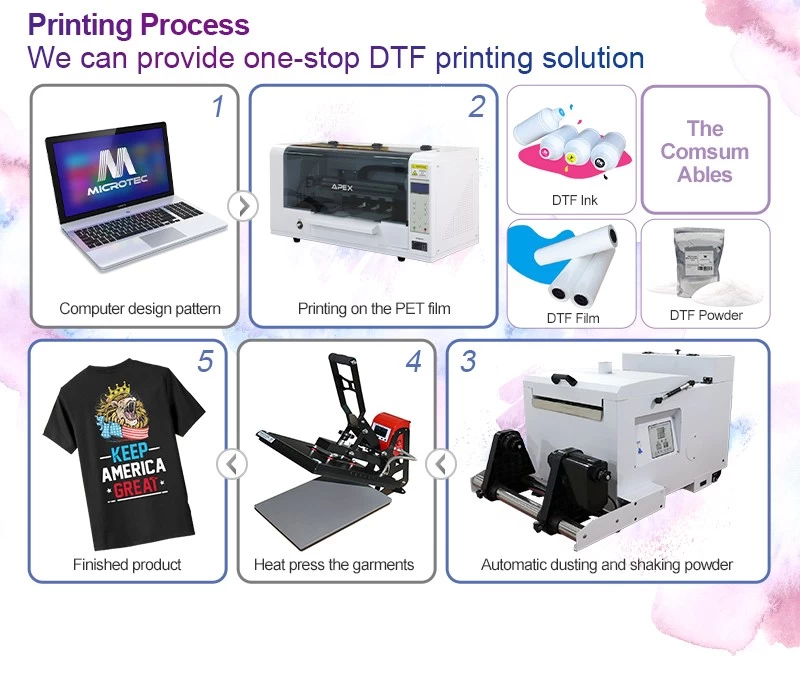 So have you decided to try our machine?
Contact us now!  sales@szmicrotec.com