Why choose Microtec Fully Automatic Heat Press Machine?
Janice
Microtec
2023-05-18 15:10:18
In an era of industrialization and automation, automatic heat press machines are in huge demand. For users, they can help users free hands from machines authentically and reduce physical fatigue. For companies, they can improve the productivity and reduce manufacturing costs. In recent, Microtec has developed a new type of automatic heat press to meet the trend of automation and bring more business opportunities for customers.
Let's have a look at this Fully Automatic Heat Press Machine.
Model-A Series automatic heat press machine, a clamshell heat press, adopts the most advanced electric control system to achieve the full automatic operation - opening and shutting down automatically. Designed with a wide opening angle, this auto heat press machine offers a safer operation, effectively preventing burns during the heat transfer process. Its pull-out bottom plate design also allows for easy placement of various transfer materials, such as t-shirts. With its automatic opening and closing functionality, accompanied by a digital temperature control system, the Microtec Model-A Auto Heat Press Machine offers exceptional value for its users. It is the optimal option for household use or commercial use.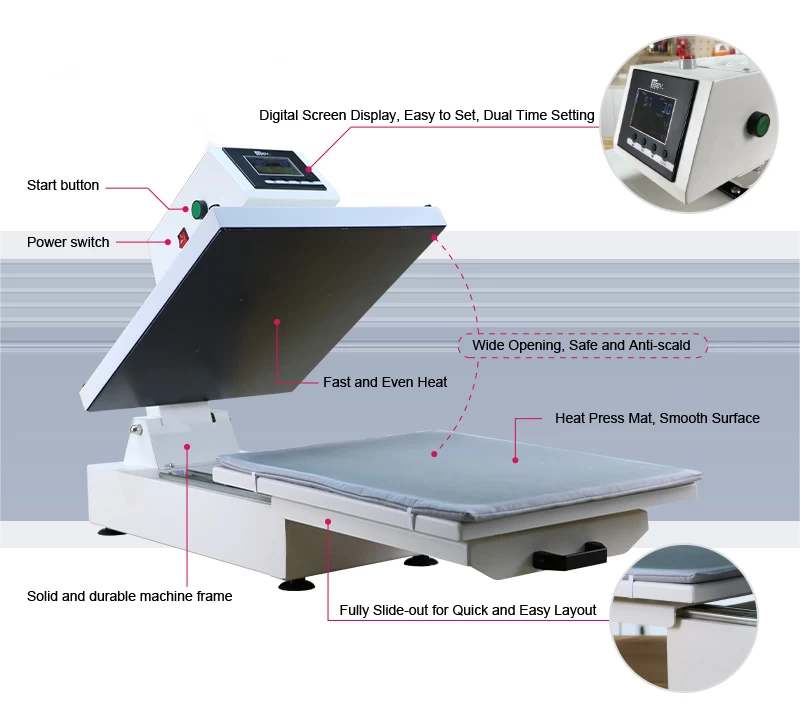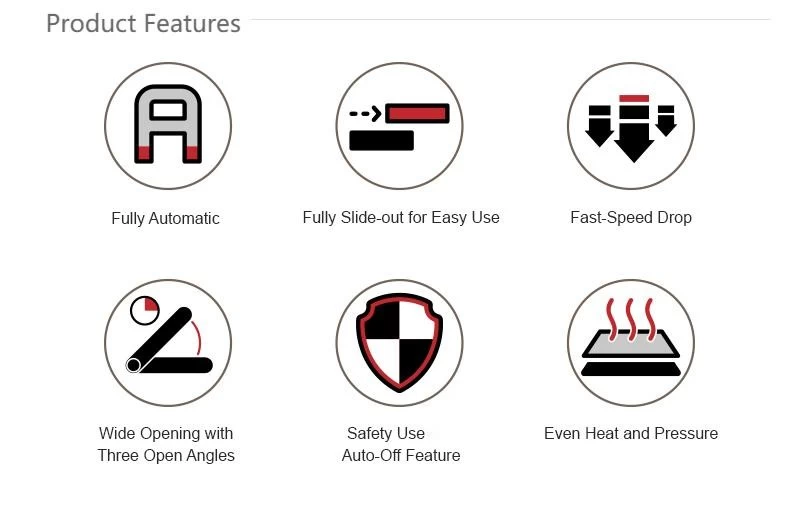 Product Features
Fully Automatic clamshell heat press
This auto heat press machine allows you to liberate your hand. You can save more time and efforts to produce your work.
Upgraded motor
The electric auto heat press with upgraded motor has lower noise when running.
Fully Draw-out Iron Under Plate
The iron under plate is comparatively more solid and durable, not easy to deform and has long lifetime. Its draw-out distance can be up to 350mm, which can protect users' hands from being burnt when they place sublimation materials on the base plate..
High-efficient
It can shut down in a fast speed and heat up fast as well as distribute heat evenly.
Safety Operation
Its widen opening angel can protect from scalding and easy to place sublimation materials.
Comparison between Craft Heat Press & Automatic Heat Press
Craft Heat Press

Automatic Heat Press

Manual Press 

More efforts and time

Auto Press 

Labor-saving and high-efficient

Risk of Burning

Possible to get burned with smaller open angle. Please make sure wear the gloves.

More Safe Operation

Wide opening angle and fully slide-out under plate to ensure safety

Needing Operation Techniques

More experienced operators needed

Easier to Operate for Beginners

Just placing transfer object and pressing the button
The Clamshell Auto Heat Press is a safe, easy-to-use, and highly versatile heat press machine that delivers consistent and precise heat transfer results. We highly recommend it to our valued customers who are looking to improve their efficiency and output.
Why choose Microtec Auto Heat Press Machine?
The answer lies in its exceptional safety features, user-friendly design, and unbeatable value. Whether you are a small business owner, a hobbyist, or a professional in the heat transfer industry, the Microtec Auto Heat Press Machine delivers unmatched performance and convenience. Experience the future of heat press technology with Microtec.