Revolutionizing Printing Technology: A Comparative Analysis of DTF and Crystal Label Printers
Wendy
Microtec's machine
2023-05-24 18:16:18
In the ever-evolving world of printing technology, two groundbreaking innovations have emerged as game-changers in the industry: the DTF (Direct-to-Film) machine and the Crystal Label Printer. While both these machines have their unique features and advantages, a thorough comparison highlights their distinct differences and showcases how they revolutionize the printing landscape. 
DTF machines have garnered attention for their exceptional ability to produce high-quality prints with vibrant colors and intricate details. These machines utilize a specialized process that transfers the ink from a film onto various surfaces using a heat transfer machine. However, a notable drawback of the DTF process is the additional step of using a heat transfer machine for processing, which can be time-consuming and labor-intensive. 

Enter the Crystal Label Printer, a cutting-edge innovation that takes printing technology to new heights. The Crystal Label Printer sets itself apart by eliminating the need for a heat transfer machine entirely. Its revolutionary printing process allows images to be directly applied and adhered to products without any additional processing steps. This unprecedented feature not only saves valuable time but also significantly enhances convenience and efficiency.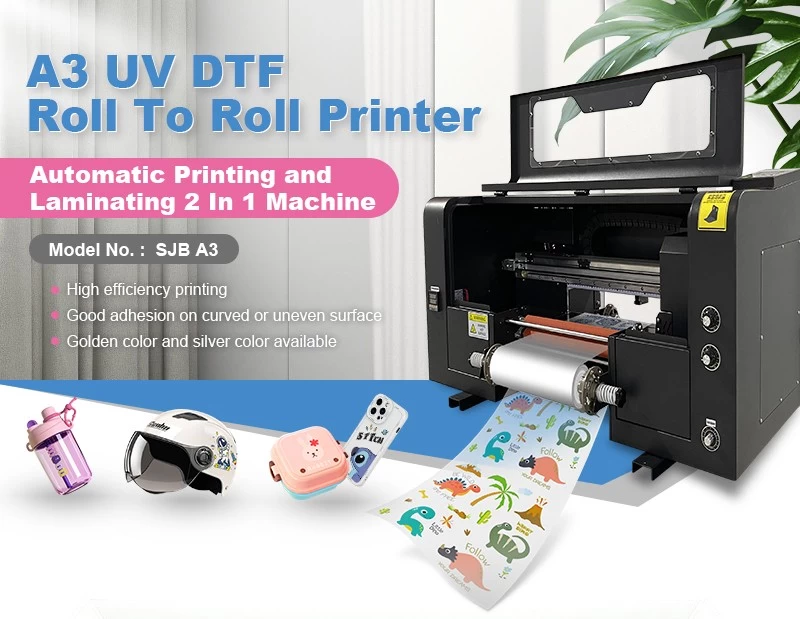 Furthermore, the Crystal Label Printer offers exceptional versatility. It supports both standard color printing and the application of gold or silver foil using UV DTF printing. This capability opens up a world of possibilities for stunning and eye-catching designs that can transform ordinary products into extraordinary works of art. With the Crystal Label Printer, businesses can unleash their creativity and effortlessly produce visually captivating labels and prints. 
In addition to its exceptional functionality, the Crystal Label Printer also boasts a user-friendly interface, making it accessible to professionals and beginners alike. Its seamless operation and intuitive controls allow for a hassle-free printing experience, while its robust construction ensures long-lasting performance. 
"Our aim is to provide a printing solution that empowers businesses with unmatched convenience and efficiency,"  The Crystal Label Printer is designed to unleash creativity and streamline production, offering a truly innovative solution."
As the printing industry continues to evolve, the emergence of the Crystal Label Printer has undoubtedly made a profound impact. Its ability to seamlessly print and apply designs directly onto products, combined with its versatility and user-friendly operation, positions it as a frontrunner in the field. With the Crystal Label Printer, businesses can embrace a new era of printing technology, elevating their products and captivating customers with exceptional visuals.