Browse Categories
Contact Us

Microtec Factory Address: GuoYang Factory, #83 Hengdong Road, Dongkeng Town, Dongguan City, 523448, China Contact Now
Latest News

Microtec is a renowned innovator and manufacturer of cutting-edge heat press machines, catering to a diverse range of industries and businesses worldwide. With a commitment to excellence, innovation, and customer satisfaction, we strive to deliver the highest quality products that meet the evolving needs of our valued customers.

It is 2-in-1 printing, it can be Automatically printing and film pressing on one machine at the same time.No need laminators, combine printing and automatic laminating together on one machine, which realizes the liberation of hands, improving work efficiency. It's support common color printing and golden foil UV DTF printing

Model-A Series automatic heat press machine, a clamshell heat press, adopts the most advanced electric control system to achieve the full automatic operation - opening and shutting down automatically. It is the optimal option for household use or commercial use, such as small businesses, beginners, start-ups etc.

Everyone is talking about sublimation and all the things you need for it these days, including the equipment! But just what IS a DTF printer machine and how to choose your favorite machine to help you start your printing business? This article will help you to have a deeper understanding.

Are you looking for one hat press that is perfect for various sizes and kinds of caps printing with only one heat platen? Microtec MAX-CAP2 cap press with top and bottom Heat platen is designed especially to meet your request. This hap press with dual heat platen is excellent for scorch free & crease free hat printing. This heat press model will surely help you to increase business sales. ► Scorch free ► Crease free ► Ideal for printing of various sizes and types of caps ► The upper and bottom is controller independently for accurate printing application ► Dual silicon mats are included for thick item printing

We covers a wide variety of products such as inks compatible to inkjet printers, wide-format printers, and digital textile printing machines. We have state of art technologies, highly efficient manufacturing plants, stringent managing process and provide excellent customer service in digital ink solutions for decades.

Multicolor 300mm A3 DTF Printing System With Double XP600 Print Head, Microtec DTF printer can produce high-quality prints with a range of colors, gradients, and photographic images. It can be used to print designs on a wide range of materials, including textiles such as t-shirts, hoodies, and bags, jeans, hat etc.

Direct to Film, Roll to Roll, Digital UV DTF Printer

The DTF printing is as straightforward as its name implies - print onto a film and then transfer directly onto fabric. Its greatest advantage lies in the freedom to choose from a wide range of fabrics, including polyester, cotton, silk, and synthetic fibers such as rayon and terry cot. This versatility makes DTF printing a popular choice for a large number of people who seek to achieve high-quality prints on their desired materials.

The calandra heat transfer printing machine that makes transferring any large job quick and easy. It is an inexpensive, easy to manage solution for all your dye sublimation paper transfer applications. This rotary heat transfer machine can be used for transferring on continuous or roll materials.

A heat press is central to success when decorating objects with heat transfer materials. Your choice of heat press can be based on a variety of factors, including heat press style, features, and performance. Let's come with Microtec to buy a good heat press machine!

The 6 best-selling heat presses on the market recommended by Microtec team, hope it can help you further confirm your decision, realize and grow your business.

The 80cm x 100cm APHD-40 model is one of Microtec most popular large format heat presses. Such pneumatically operated machine is mainly developed for professional textile printers of objects with large format. The extra large pressing area of 80 x 100 cm makes it particularly suitable for transfers on large size textile objects such as banners & flags, sheets, curtain or towel, etc.. With a sliding lower plate, it is very easy and efficient to arrange and handle transfer medias with various size. With all the advantage, this pneumatically operated heat transfer machine is ideal for large-scale production environment.

Two working tables designed at one side of the machine when the printing finished the tables rolls out while another one will roll into the machine for printing automatically. Two working stations take turns to do the printing. And this machine has 2 cylinders

DTF printing, DTF printer, Direct to Film printing, Microtec DTF printer, APEX DTF printer, DTF Ink, DTF Powder, DTF Film

This mini heat press is an ideal choice for household use and DIY design. Due to its small size, it is lightweight and easy to carry and operate. It's suitable for pressing small objects like T-shirts, hats, handbags, masks, socks, etc. Especially, the small and compact heat press is perfect for uniquely shaped and extra-small projects with hard-to-reach spaces, such as shoes, and stuffed animals.

Swing Away heat press is an ideal starter heat press for t shirt printing business. MT-201 swing design heat presses combines a heavy-duty solid steel industrial grade framework with easy to use digital controller. This provides the operator with the best possible features and equipment needed for various heat transfer applications.

Digital lanyard heat press machine with dual heat platens. Offered with two strong pressure bars, Microtec lzp-40 lanyard heat press distributes even heat and pressure, to ensure the best transfer result at center and 4 corners. After setting 180C and 60S, this machine will open automatically when time is up.
Follow us
Subscribe

Get email updates on new products
9 in 1 Pencil Heat Press Machine PP-10A3
Model No.: PP-10A3
9pcs Pencils Per Transfer
Laser Heat Transfer
Small and Exquisite Hobby Press
Exchangeable Design 4 in 1 Combo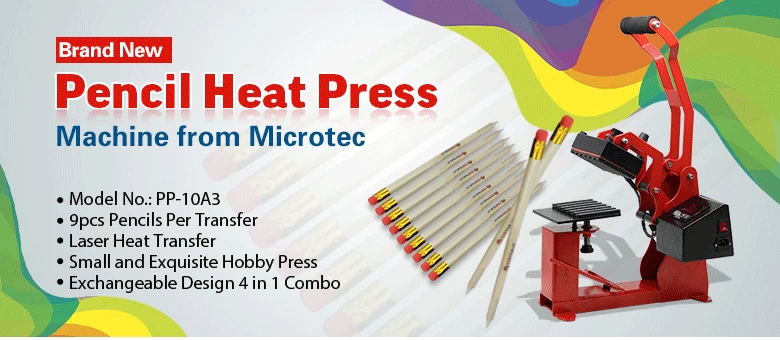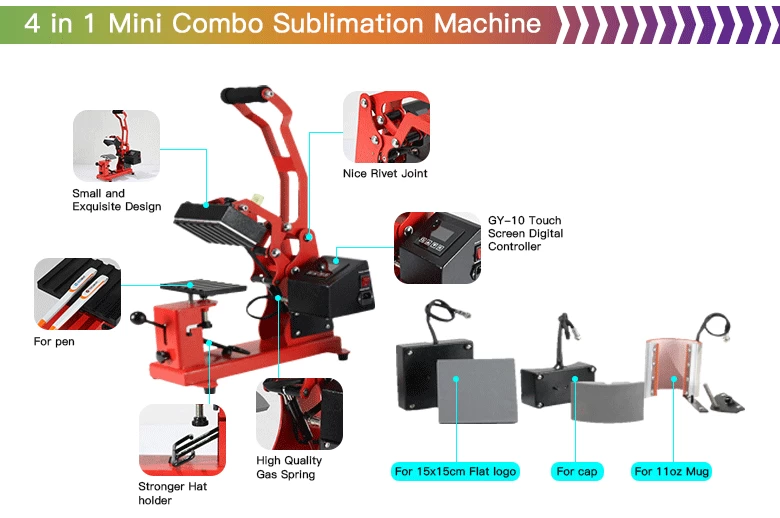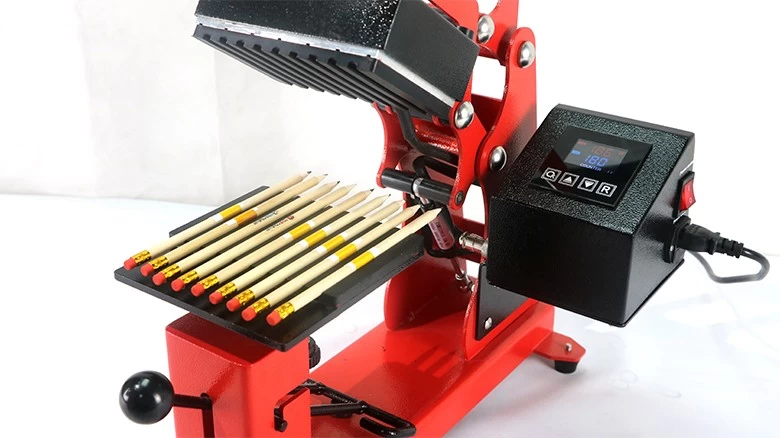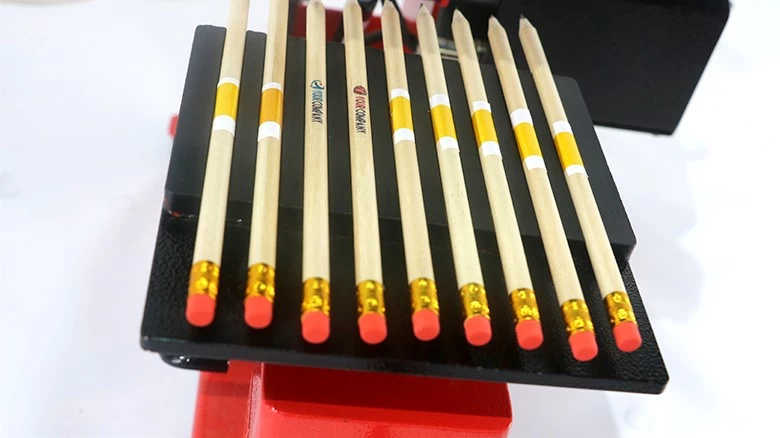 PP-10A3 pencil heat press machine is specially designed for wooden pencil printing. With 150*100mm size pen heating element and 150*100*10mm basal silicone mould, the pencil laser transfer machine can transfer 9pcs pencils each time. Heating from 0 to 200℃, it needs only 5minutes. Designed by Microtec senior engineer Mr. Lu, the pen press is small and exquisite.
For the pencil heat press, you can also use it as 4 in 1 combo heat press, including mug heat press, cap heat press, flat hobby heat press (with 11oz mug heater, cap heater, and 15x15cm flat heater). Please refers to Microtec PP-10E mini combo sublimation heat press.
As it is Small and Exquisite, and with exchangable design 4 in 1 Combo, this pencil heat transfer machine is good for lady use, shop use and sublimation beginners.




GY-10 Touch Screen Digital Controller:

This controller makes the heat press looks more fashion; It is easy for you to set the time and temperature. More accurate of the time and temp. display         

  

         

            

               





Quick-changable Under Base Design:

You can change easily this pen press to cap press, mug press, hobby press by changing the under base and heat element. This design makes the press machine to be multi-functional combo heat press.




Heating Element with Soft Silicone:

With the soft silicone, the heat and pressure can be distributed more even, to get perfect transfer result.




High-quality Gas Spring:

This gas spring makes the press machine open smoothly and safely;


 Model number:

 PP-10A3

 

Type of machine

 

Manual, Clamshell

 

Plate size

 

Pen heater 15 * 10 cm + pen base (9 pieces at a time)

 

ticket inspector

 

GY-10 Digital Time & Temp. Control

 Under the plate



 interchangeable

 

Gas spring

 20kg \ ¢ 15 \ 164mm * 1pc

 

Printable articles

 

Thickness up to 13 mm

 

Opening angle

 

45 degrees

 

Heating time at 200 ℃

 About 5 minutes

 

Voltage

 

110V / 220V

 

Power

 

350W

 

Frequency

 

50HZ / 60HZ, current 6A

 

Time lapse

 

0-999 Sec.

 

Maximum temperature

 

225 C

 

Temperature accuracy

 

± 5 ℃

 

Machine

 Size

 448 * 257 * 365 mm

This pencil heat press is ideal for pencil heat transfer (9pcs per time)


Microtec's main objective is to support all our customers, who can manage their heat transfer activities without interruption. So Microtec offers FREE SPARE PARTS with a quantitative order and the following guarantee:
* Free lifetime technical support on all heat press machines.
* Two-year warranty
* Five-year warranty on fusions and welds.
* Five-year warranty on the heating plate.
* Six-monthly warranty on the heaters of cups, plates and caps.
Microtec Technology Co., Ltd.
Tel:+ 86-13924604227
Wechat:+ 86-13924604227
Contact Person:Sophia
PDF Show:PDF
Other Products