Upgraded E-Series With Two Pressure Mode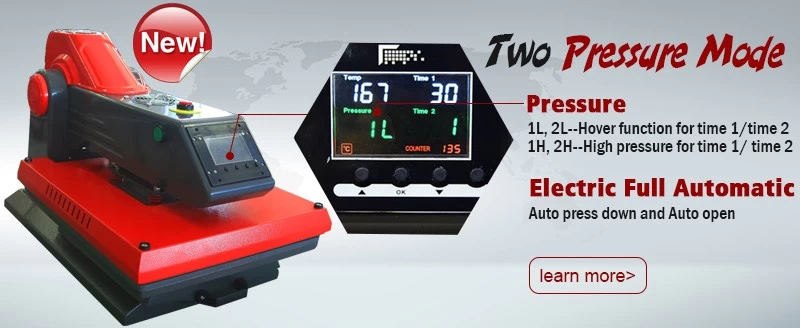 Electric Powered
E Series use the most advanced
electric control system to achieve the
full automatic operation.
Smarter and safer.

Auto Down & Auto Open
Full automatic with auto press down
and auto open, by simply pressing two
buttons. Largely reduce the
fatigue of the operator.

Two Pressure Mode
Low pressure for hover function to
cure the ink. High pressure for any type of traditional heat-applied graphics.
Upgraded Digital Controller
GY-08N controller with two pressure and
dual time setting. It also stores frequently
used settings, production cycle cunter.
High Efficiency
Perfect for high volume commercial
use,specialty decorators, diect-to-garment printing, and embossing etc.
Safe Operation & Less Noise
uer-safe two-hand push button.
Full automatic without noisy air compressor.