Hot sell electric automatic mug press from Microtec
Are you looking for a new mug heat press which is differentiate with the traditional mug press market? Our Electric mug heat press machine MP-99 can be your good choice! With easier operation and maintenance, the unique MP-99 can help you win much more market share.

Main features of MP-99
1.Durability and constant configuration with 90% die-casting Aluminum.
2. Fully automatic open / close mechanism (No air compressor needed)
3. Mounting with Grade A Mug heater which can transfer about 2,000pcs mugs.
4. Dual display temperature and timer digital controller with high end blue back-light.
5. Automatic timer and alarm indicates completion of heat press cycle
6. Low energy consumption while high efficiency, lightweight enough to bring.
7. Emergency release button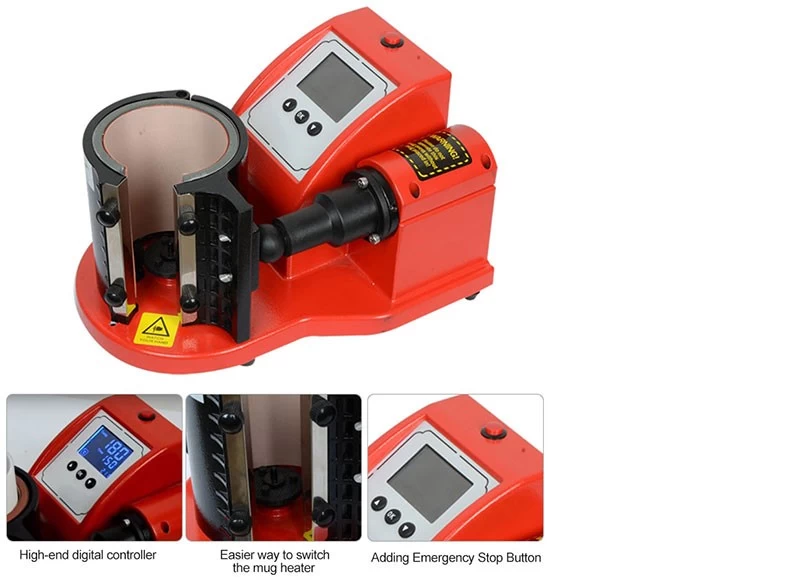 Difference/advantages between our Electrical mug press and other manufacturers' pneumatic mug presses:
1.Electric model with easier driving method.
No need to use air compressor compared with the pneumatic mug press.
Plus, the electric motor has lower defect rate than air compressor, more durable for use.
2.Adding Emergency Stop Button.
Any emergency, you could stop the heating at once only by pressing the button on housing easily.
3.Easier way to switch the mug heater.
Four big screws on the heating element, very easy to unscrew and tighten by hand,
When you need to exchange the mug heater.
While for other suppliers' pneumatic mug presses, it not only has to remove the bottom housing case first, but also then needs to use screwdriver to unscrew the heater.
4.Easier Maintenance only by unscrew 5 screws on back panel of housing.
While for other suppliers' pneumatic mug press, it is difficult to change part.
Also, pneumatic mug presses would have higher defect rate of internal parts.
If you have any demands on this fully automatic sublimation mug press, please contact us at
inquiry@szmicrotec.com
. Thank you.