Revolutionary Heat Press Innovation: TC Auto Heat Press with Detachable Control Box
Sophia
Microtec team
2023-08-01 12:33:18
Microtec Technolog Company, a leading innovator in the heat press industry, is thrilled to announce the launch of our latest breakthrough product, the TC Auto Open Heat Press with Detachable Control Box. This cutting-edge machine represents a significant advancement in heat transfer technology, providing unparalleled convenience and efficiency for businesses and individuals alike.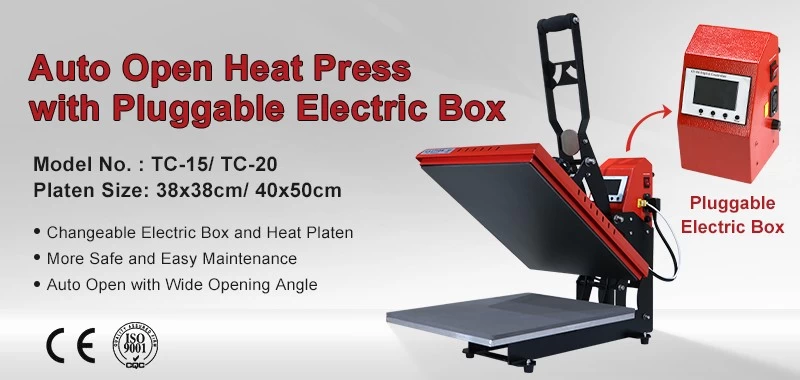 The Power of Detachability for Enhanced Maintenance
The TC Auto Open Heat Press with Detachable Control Box takes the exceptional features of our renowned MAX CLAM Auto Open Heat Press to a whole new level. With the addition of a detachable control box, we have revolutionized the way heat press machines are maintained and serviced.
Key Features and Benefits:
Seamless Maintenance: The detachable control box empowers users to effortlessly remove and send it back to our expert technicians for diagnostics and servicing. This streamlines the maintenance process and minimizes downtime, ensuring that your machine is back in action swiftly.
Effortless Troubleshooting: When faced with operational issues, the detachable control box makes it easy to identify and rectify problems accurately. The ability to diagnose the machine remotely reduces the need for on-site inspection, saving valuable time and resources.
Wide Range of Applications: The MAX CLAM Auto Open Heat Press with Detachable Control Box caters to various heat transfer needs, from apparel decoration to sublimation printing and beyond. Its versatility opens up new creative possibilities for businesses and hobbyists alike.
User-Friendly Interface: Our heat press machine features an intuitive control panel that allows for easy operation, calibration, and adjustments. Even newcomers to the heat transfer industry will find it straightforward to use.
Durability and Safety: Designed and built to the highest industry standards, the machine and its detachable control box ensure long-lasting performance and utmost safety during operation.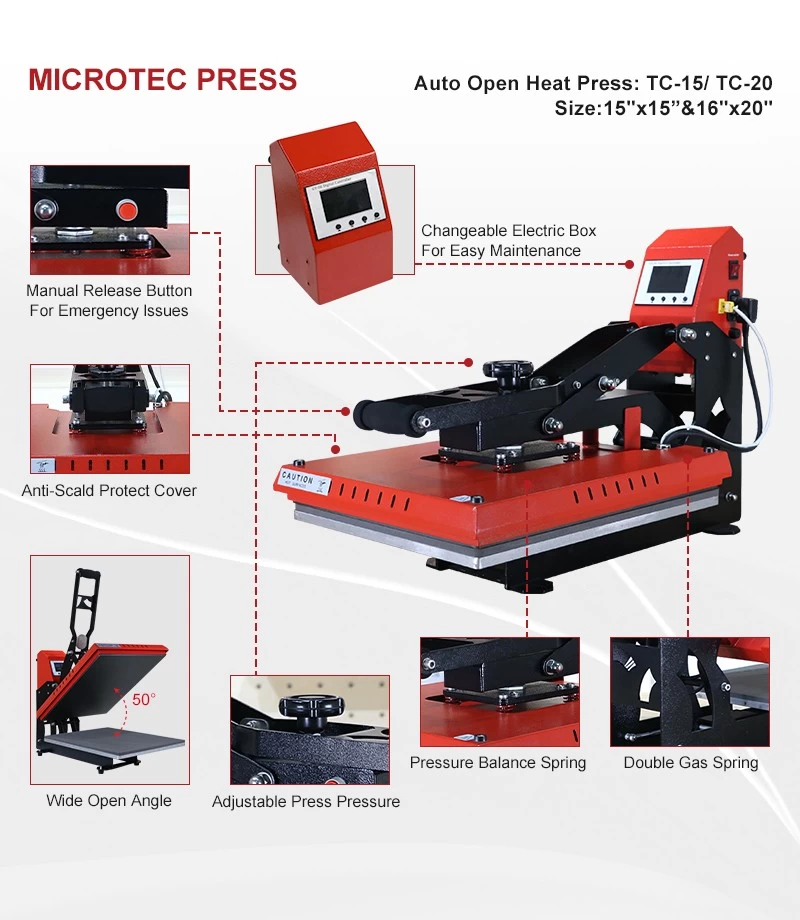 Join the Heat Press Revolution
At Microtec, we are committed to pushing the boundaries of heat press technology. The TC Auto Open Heat Press with Detachable Control Box is a testament to our dedication to providing cutting-edge solutions that meet the evolving needs of our customers.
Whether you are an established business looking to boost productivity or an individual seeking to explore the world of heat transfer, our new heat press machine is here to revolutionize your experience.
For more information about the TC Auto Open Heat Press with Detachable Control Box, please contact our sales team at sales@szmicrotec.com