DTG Printing VS. DTF Printing
Kitty
Microtec team
2023-03-01 18:34:52
If you're new to the textile industry, you've probably heard of the latest technology, two popular printing methods for apparel are Direct to Garment (DTG) printing and Direct to Film (DTF) printing.  
What Is DTG Printing? 
DTG printing, or direct-to-garment printing, is a process of printing digital designs directly onto fabric using a specialized printer. DTG printers work by textile inks onto the garment in a similar way to how an inkjet printer works on paper, but with much greater precision. Prior to printing, the garment is pretreated with a solution that helps the ink to bond with the fabric fibers. After printing, the garment is cured using heat to ensure that the inks are properly set.
What Is DTF Printing?
DTF printing, on the other hand, uses a special transfer film to print designs. Before being covered with hotmelt powder, the artwork will be printed on the back side of the film. When the design is put to the chosen apparel using a heat press, the powder serves as an adhesive, assisting the inks to adhere to the garment.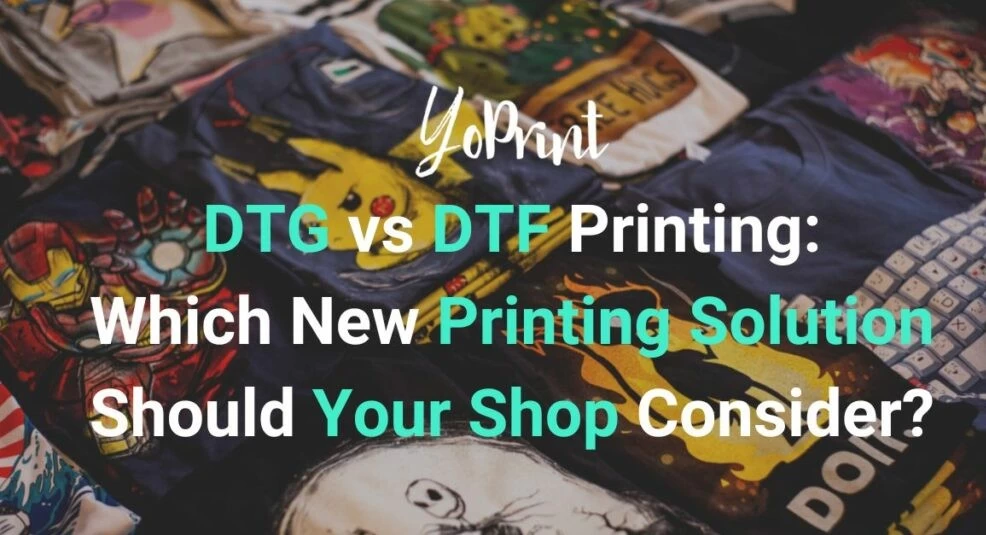 Conceptually, DTG and DTF printing similarly use digital inkjet technology to print their designs on substrates. The difference is that DTG prints directly onto the substrate, while DTF uses transfer films as a medium to transfer the design to the substrate. 
DTF printing's main advantage comes from its cost-effectiveness. Consumables such as printer inks, transfer films, and hotmelt powder are relatively inexpensive, allowing you to keep costs low while maximizing the gains from your prints. Since you're printing on sheets or rolls of film, you can easily print multiple designs on a single sheet or length of the roll.
Which Option Should You Take?
Depending on your current situation, DTF VS DTG printing will provide you with flexibility in a variety of ways.
DTG printing is the way to go if you're willing to take small orders of customised shirts with detailed patterns and a wide color range quickly. The first entry fees may be daunting, but if you can justify them, the return on investment – and the potential for rapid expansion of your clientele – is well worth it.
DTF is a suitable choice if you need to meet medium-to-large orders for a variety of materials. DTF printing is a simple approach to increase your market share because you can simply print designs for a wide range of material types that appeal to a diverse audience. Furthermore, because DTF printing uses less ink than DTG, it is more cost effective and environmentally friendly.