STM Large Format Auto Open Heat Press with Slide-out Press Bed
Microtec
2017-05-26 11:24:54
Hi, everyone, today i would like to introduce you our old friend STM which has been selling for more than 10 years.
With its stable quality and competitive price, this model is still our hot seller.
● Auto-open clamshell heat press with slide-out press bed
● Platen Size: 32"x40"/40"x48"/40"x55"
● Controller: GY-06 Digital Time & Temp. Control
● Printable Articles: Up to 20mm Thickness
● Time Range: 0-999 sec.
● Maximum Temp: 225 C

● Temperature Accuracy: ±0.5%
● Pressure is adjustable
● Full Foam-Wrap wooden carton package: The machine is packed by foam, which is safe during transportation

● Versatile operation - Large (80*100 cm, 100*120 cm) element allows transfers onto many flat surfaced items, such as fabric, metal, wood, ceramic & glass.
● High-quality heat platen: The founding heat platen ensure the temperature is controlled within ±4 degree, long duration and evenly temperature.
● Stable machine frame: It's cut by laser cutting machine, no ugly joints.
● Widespread application: with the adjustable pressure, can suitable for different sublimation objects like fabric, metal, wood, ceramic & glass etc.
● Easy to use-Arrive fully assembled and ready to use.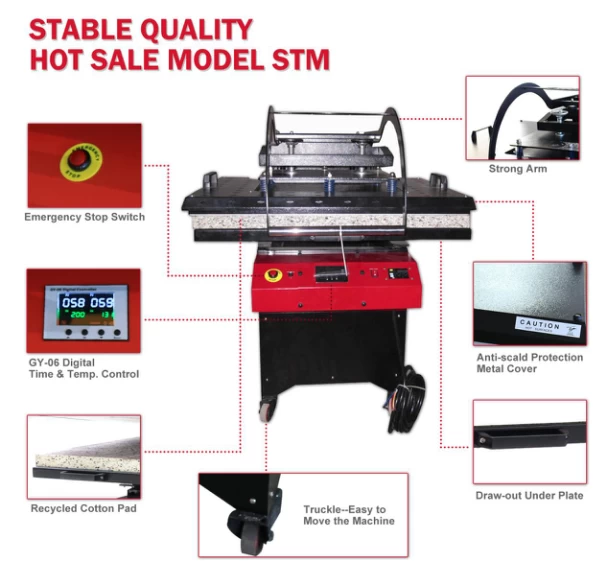 If you have any demands on this hot seller STM model, please contact us at inquiry@szmicrotec.com. Thank you.