New multifunctional 2 in 1 mug press
New multifunctional 2 in 1 mug press
People used to choose single mug heater press, then he can look for and find the multifunctional type. Thus 2 in 1 mug press was brought in and will be attracted in this promising market.
After serious test and transfer print, one unique mug press machine appears and catches people's attention with its beautiful appearance and practical performance.
It is our 2 in 1 mug press.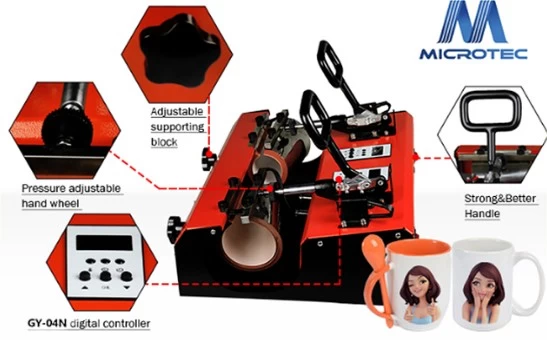 Specifications:
* Controller: GY04N digital time & temp. controller
* Maximum Temp: 220C(437F)
* Time Range:120-220 seconds
* Power: 2*300W=600W
* Current: 2.8A/5.5A
* Voltage: 220V/ 110V
* Frequency: 50-60Hz
* Net Weight: 14kgs
* Gross Weight: 16kgs
* Machine size: 46.8*39.3*26.7cm
* Packing size: 55*51.5*38cm
* Machine Pressure: Adjustable
Features:
* Red & Black color, makes it elegant and recognized easily.
* Unique design, the car model structure makes it chic and fashionable.
* Symmetrical fame, makes it artistic.
* Double functions, transferring the 11oz & 15oz mugs at the same time makes it more efficient.
People may be curious about its specialty. It can be used to transfer two 11oz mugs at the same time, or used to transfer two 15oz mugs simultaneously or used to transfer one 11oz the other 15oz together, which makes this machine multifunctional.  
Compared to other mug press from Microtec or other suppliers, this machine, can be used individually or multifunctionally.
The digital controller, the handle, the mug heater, the block, all these parts are same from both left and right side of the machine, which can be operated singly or doubly.
The price is also very economic if you need to have a try.
With one machine, you can get two machines in fact. Whether you want single function or double function, you can use it to transfer your favorite mugs.
Where there is mug, there is mug press. Every home is worth to having one.
Any interest in it or any questions, please do not hesitate to contact :
Website: www.microtecgroup.com
Email: inquiry@szmicrotec.com