Microtec Patented Automatic Electric Heat Press makes your business more reliable
When you comes to Microtec, you may be attracted by our machine's cool looking, or by our diversified blanks species. You can find almost the whole you need in heat transfer area. 
This is our company, making developments and progress, aims to show you the better also the best.
With new technology and designs, we bring in a new machine, called automatic electric heat press machine.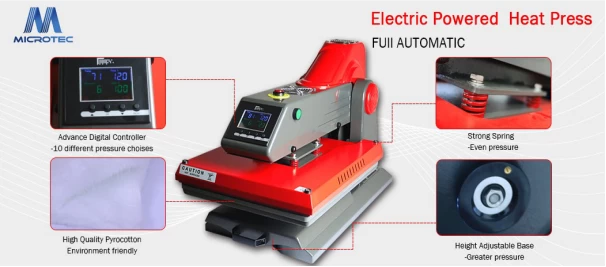 * The mini size makes convenience when shipping. 
* The red & grey color makes uniqueness when displaying.
* The advanced accessories makes flexibility when using.
▪
Fully electric control: no need noisy air compressor.
▪
Auto press down & auto open with safe start button.
▪
Easy pressure adjustment according to the thickness of items. Program up to 10 different pressure.
▪
GY-08 controller with different pressure and dual time setting. It also stores frequently used settings,
production cycle counter.
▪
Perfect for high volume commercial use, specialty decorators, direct-to-garment printing, and embossing etc.
▪ One year for entire machine
▪ Five years for heat platen
▪ Two years for motor
With this machine, you can transfer any even and flat material with your favorite pictures, such as mouse pads, phone cases, T-shirts, towels, aluminum sheets, textiles, MDF photo plaques, photo slates, car mats, fridge magnet, etc.
But one more needs to take care, your local voltage and thickness below 15mm.
What's more, authorized patents make your life safe enough.
This is a patent for utility models. It is used for gizmo (little invention).
Compared with patent of invention, it is applied to protect machine's appearance or structure or both. Therefore, same machines from others will not be available, this machine will occupy its own market.
Microtec provides you the reliable and beneficial Electric powered heat press machine, with economic price and professional guidance, it is worth having one.
Any interest in it or any questions, please do not hesitate to contact: