MaxArmour Series High End Design Multifunction Heat Press
Here we would like to present you

Microtec MaxArmour Series

! The quality and reliability of the Microtec brand heat presses will always be your first choice.
ALL OF OUR HEAT PRESSES CARRY INDUSTRY LEADING WARRANTIES AND OUR UNCONDITIONAL CUSTOMER SUPPORT!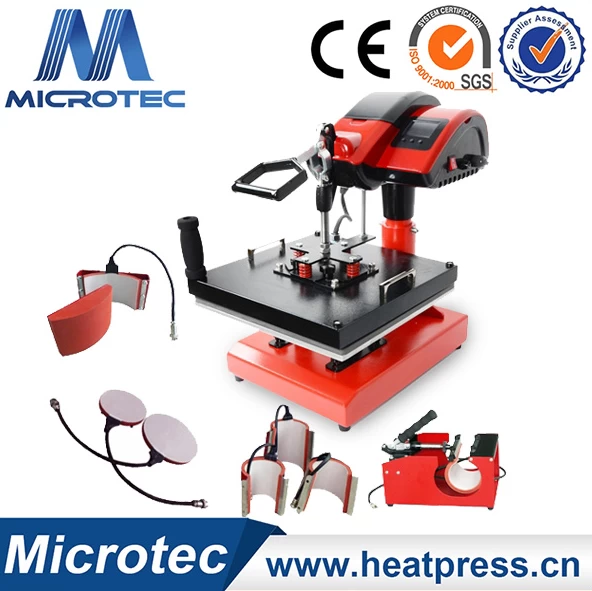 Features:
High end fashion design
Hidden pressure adjustment knob.
Laser-cut-quality steel framework.
Complete commercial business grade
Full pressure range knob, reinforced structure to ensure high pressure
Teflon-coated heating platen
Improved heating element for even and quicker heat up
Specifications:
Heat Press Style: Multifunction/Swing Away
15"*15" Baked on, Non-Stick Coated Heat Platen
Gauge Reading: Fahrenheit or Celsius degree measure
Digital Temperature Control
Digital Automatic Timer
Voltage: 110V/220V
Maximum Temperature: 400ºF
Time Range: 0-255 Seconds
8-in-1 Multifunction Heating Elements:
15"*15" Heating Flat Element
Cap/Hat Heating Element
5"Ceramic Plate Heating Element
6"Ceramic Plate Heating Element
Water Bottle Heating Element
Standard 11oz. Mug/Cup Heating Element
Medium Tapered Mug/Cup Heating Element for Latte Mugs
Large Tapered Mug/Cup heating Element for Latte Mugs and Pint Glasses
Swing Away Handle

The MaxArmour Series features a swing away handle that allows you to swing the top heat platen away from the lower platen safely and easily.

Improved Pressure Adjustment

The pressure adjustment knob on the MaxArmour Series is hidden in the black cover and has been improved for smoother action. It is now easier than ever to adjust the upper heating platen to accommodate thick items.

Upgraded Time/Temperature Gauge:

Setting the time, temperature and changing temperature scale from C to F is now easier with the MaxArmour Series. The advanced digital gauge displays temperatures with a 4 degree accuracy range. The automatic timer alarm begins to sound 3 seconds for it reaches zero to prevent over heating of your material.