Large format heat press for perfect sublimation transfer
Microtec
2016-12-07 19:54:22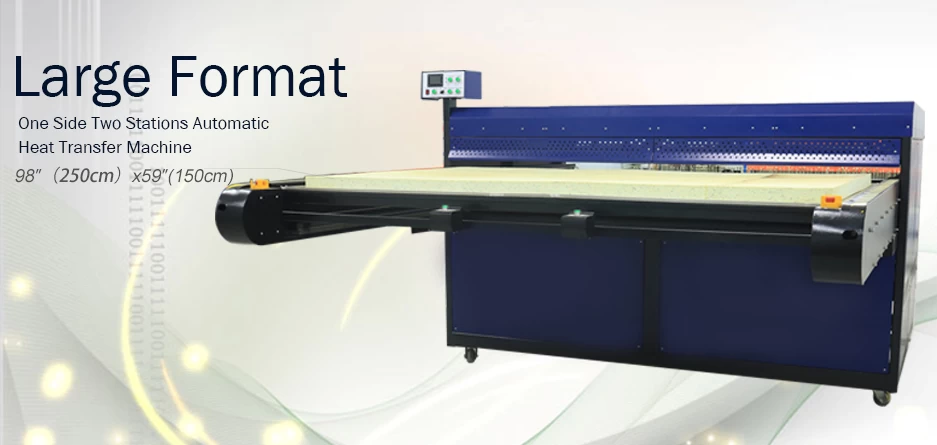 Hello all Microtec friends, glad to share you with our latest goods news of our heat press machine! Have you ever met any upset moments of no able to find a suitable machine to do transfer for super large materials like curtains or large flags? It is easy to find a heat press machine with sizes around 100x160cm, while for larger, very difficult before. But now we have newest model XSTM-98 machine that can do large size up to 1.5*2.5m with perfect full size transfer. Below are the specifications for you to check in details: *Machine type: Automatic, single side two stations *Platen size: 59''*98'' (150*250cm) *Under plate: Fixed *Controller: GY-06 digital time & temp controller *Printable articles: Up to 20mm thickness *Packing size: 318*219*222cm
Full Size Transfer
Print size up to 150*250cm.
Designed & built for full transfer, even on the collar with fold

High Pressure
With dual cylinders, the XSTM can provide high pressure

Even Heat Distribution
The high quality heating plate of XSTM ensures exact temperature distribution over the whole heating plate

 
    

Automatic Mode
Heat press runs automatically with setting temperature and time

Easy Operation
Time and temperature are set within one digital controller panel, as well as the manual/auto model can be switched easily.

One Side Two Stations
With the 2 base plates, high production volumes can easily be achieved with less fatigue.
Applications:
· Sports goods
· Advertising, flags, banners, accessories.
· Large photo, posters.
· Transfer on Hard Substrate
(ceramic, aluminum, plastic, wood...)
· Textile: home finishing, apparel, curtains…